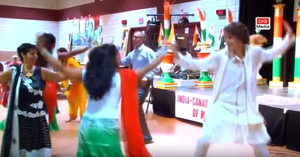 POLITICAL MUSINGS
The Theatre of Politics
\
Slowly but surely, some of us think that something akin to a revolution is shaping politics around the world. I can already hear scornful, skeptical laughter greeting this tentative assertion. But hear me out.
From Kalidasa's 'Shakuntala', to Shakespeare's 'Julius Caesar', not to mention classical Greek tragedies, politics has always been theatre. Next Friday, in London's Wembley Stadium, the Indian Prime Minister Narendra Modi is scheduled to "play" to an audience expected to be around 60,000. So what's new? Last weekend, on US TV's 'Saturday Night Live', Donald Trump also performed to a TV audience, according to Nielsen ratings, of about 9 million viewers.
As a Canadian (of Indian origin), what makes me especially thrilled is our newly-elected Prime Minister, Justin Trudeau, dancing the bhangra. Alas! If only the bhangra could really win elections, there would be bhangra studios popping up in the world's capitals, and students with names like Assad, Putin, Merkel, Berlusconi, and Lallu Prasad lining up to enroll. Needless to say, these studios would provide unwelcome competition to another 'import' from India, Bikram Yoga studios, and place limousines like those of Bikram Choudhury on the auction block. (Something similar actually happened to Rajneesh's Rolls Royces after the dissolution of his Oregon ashram in Rajneeshpuram).
But back to the theatre. What seems to be affecting the Theatre of Politics is not so much the performers, but the audience. The audience is changing, and with it the art of politics. Seared in our recent collective memory is the image of a lone protester confronting Chinese tanks in Tiannemen Square. While, on the one hand, it was the theatre of repressive power playing out in Beijing, the audience's reaction was not one of fear, but of defiance and utter skepticism of the government's policies. One of the most remarkable acts of defiance is that of the artist, Ai Weiwei, considered by many to be the greatest artist of this century. Weiwei has turned art into a political weapon. If you're in London for Modi, don't miss the Ai Weiwei exhibition at the Royal Academy of Arts. That should be more enlightening.
While we wait to see if Donald Trump's 'Saturday Night Live' theatricals are treated as serious theatre or vaudeville, it would appear that Mr. Modi's performance in Bihar didn't attract the rave reviews the BJP had predicted. To be honest, few politicians in the world can match Lallu Prasad's talent for theatricals and eloquence that sometimes bordered on the poetic. We'll wait to see how Mr. Modi fares in Wembley.
In Canada, the recently discredited Conservative government of Stephen Harper pulled out all the stops, even to the point of Harper's TV appearances with the former crack cocaine addict, Toronto Mayor Rob Ford. Whether it endeared him to any segment of the population we do not know. With the Conservative's publicity apparatus aided by Lynton Crosby, the Australian political strategist credited with helping Cameron win a majority government, Mr. Harper's party tried to exploit the Muslim 'niqab' issue as a wedge to polarize Canadians, and also promised a 1-800 phone line for callers to snitch on their neighbors and report "barbaric Muslim practices." It just didn't work in Canada, as we hope the BJP's exploitation of the cow and beef doesn't work in India, projected to be the world's largest exporter of beef in 2015, after Brazil and Australia.
Could it be that a younger generation of the world's population – both India and China currently have over 600 million in the 15-44 year age group – are tired of waiting to find jobs, tired of the old political clichés, tired of aging politicians fattening themselves as in George Orwell's 'Animal Farm'. Could it be that the new demographics of the world's youth and middle-aged population is altering conventional political truisms. As the old saying goes: You can't fool all the people all the time!
United in Hatred and Loathing
The French President, Françoise Hollande has described the terrorist attacks in Paris on Friday 9/13 an 'act of war' and called upon France to unite in the face of this tragedy. Is it possible to unite in hatred and loathing?
We believe it is possible to unite not just the people of France, or Europe, but rational people throughout the world who have found, and continue to find, inspiration from the words "Liberté, égalité, fraternité", the very pillars of modern society. That includes Muslims too who fought for he Arab Spring, and Sunnis and Shias the world over, Yazidis and Rohinjyas, Buddhists, Hindus, Christians, Jews, ideologues in the Kremlin and Neocons in Washington, DC, and others.
Fear unites, but hatred and loathing? However improbable this may seem, the time has come for just such unity. Leaders the world over, from Pope Francis to Indian Prime Minister Narendra Modi have voiced their sense of outrage over the barbarity unleashed by Islamic State over innocent civilians.
The Associated Press image above, of the body covered in a white sheet lying on a Paris sidewalk, could be that of anybody, colored or white, Muslim or Christian. It could be you or me. We are all under threat from this fanatical group, a throwback to the Dark Ages, set on a mad goal of a caliphate.
We have to pull back from a kneejerk reaction against Muslims, especially refugees flooding into Europe who are themselves, by and large, victims of ISIS as well as President Assad who might duck for cover by claiming he too is a victim of Islamic State. The two, ISIS and Assad, are both perpetrators of genocide. Canada and the United States must not hesitate in their pledge to resettle thousands of refugees.
Neither should the rest of the world hesitate from decisive action against the vermin ISIS. The time for academic research into the causes of radicalization has come and gone. To persist in such activity would be like Nero fiddling while Rome burns. The sooner world leaders, especially those from NATO members, wake up to the urgent need for decisive action the better. It is possible that even Russia might join this alliance of the West as it once did to fight the scourge of Hitler.
The only way to crush the ISIS vermin is with boots, powered by hatred and loathing. Boots on the ground!
THE PIED PIPERS OF CLEVELAND
Rats! They fought the dogs and killed the cats,
And bit the babies in the cradles,
And ate the cheeses out of the vats,
And licked the soup from the cooks' own ladles,
Split open the kegs of salted sprats,
Made nests inside men's Sunday hats,
And even spoiled the women's chats,
By drowning their speaking
With shrieking and squeaking
In fifty different sharps and flats.
          —Robert Browning, "The Pied Piper of Hamelin"
Over the past few nights, every time the Cleveland airwaves reverberated to the word HILLARY, I heard the name "Rats". Hillary, who spawned the end of Khadafi and prepared a cradle for ISIS; Hillary and her clandestine basement e-mail server; Hillary, who dodged fake bullets in Serbia; Hillary who bestowed favors on donors to the Clinton Foundation; Hillary, who helped escalate Bill Clinton's speaking fees; and, of course, Crooked Hillary, ……..all I heard echoing was RATS.
In the background was the music played by not one piper, but what seemed an endless parade of pipers – wrestlers, actors, senators, congressmen, lawyers, generals, and charming ladies. They kept coming. And then I realized, judging from their stature, that they were no match for the lead piper. The lead Piper stood tall on a screen with his golden mane blowing backwards in the wind, but the other pipers looked small enough to be mistaken for rats. I wondered if it was perhaps the Cleveland Rats Orchestra. In the demonic excitement of the evening it really didn't matter.
Of course, through the passions of the evening the name Hillary no doubt signified something of a Queen of Rats. Yet, she was nowhere to be seen in the pulsating, cheering, banner-waving arena. But in the wake of the tumultuous throng of pipers marching towards Valhalla, I thought I saw thousands of rats in a beautifully choreographed march.
They marched, and they marched, and they marched, until they climbed a hill and came to the edge of a cliff. And then the rats disappeared like lemmings into the precipice below. There was a deathly silence, and then the lone Piper started to pipe again. A soothing, beguiling melody. And a new band of marchers materialized at the Piper's feet. They waited, and they waited, and they waited, and the piper played on.
I fell asleep. When I awoke, the cliffside was deserted and empty. But for me.
The Rear Vision Mirror (1)
When India held its first democratic elections in 1952, many thought it would be India's last. The air of cynicism has dissipated over the years. Gandhi, Dr. B.R. Ambedkar, Jawaharlal Nehru, Vallabbhai  Patel, Maulana Abul Kalam Azad, Sarojini Naidu and other great political leaders of sixty years ago have passed away. But they and freedom fighters like Netaji Subhas Chandra Bose and others who sacrificed their lives for Indian independence have left behind a legacy of democracy, which will not be easy to dismantle.
At the moment, India is in the midst of another election, with about 814 million citizen eligible to vote. A complex, gargantuan task. One of our books, "Moving Mountains in India, Drinking Tea in Tbilisi," comes to mind because its author was one of the finest, wisest, bravest human being I have known. The late Yun-Chong Pan spent years in India working for the Canadian International Development Agency (CIDA). We shared an intense love for India and Chinese food.
Unfortunately, although well ensconced in a corporate position in a foreign company in Calcutta, my wife and I decided to leave India in 1971 to pursue graduate studies in Boston. Family and friends thought we were crazy to uproot ourselves, with two children to boot, a son aged four and a daughter aged one. But we took the plunge, leaving behind a small, beautiful house we had built three years earlier. Even more difficult to part with at the time were paid memberships in three Calcutta clubs – the yacht club, the swimming club, and the Royal Calcutta Golf Club. A good life, indeed.
On a cloudy weekend two months ago, seated on the lawns of the Delhi Golf Club, with a chill wind blowing, I listened in amazement as a senior club member narrated how the club, on leased government land, now had a twenty-five to thirty years' waiting period for new members, how the lease was to expire in 2020, and how it was renewed to 2050 eight years early in 2012. The cost to the club, if one can call it cost, was twelve new and immediate memberships to the club demanded by senior Indian bureaucrats with positions of authority in the ministry handling the lease. I did not care to enquire about the golfing skills of the new members. Well past their physical prime, each had won a coveted trophy in advance. I remembered golf from forty years ago, but not any trophies.
India is awash with trophies, accessible to a privileged few with money and/or power. Five-star hotels and hospitals, exclusive gated communities, fashions to bedazzle the world are ready for the taking if one takes the media, barring a few notable exceptions, seriously. That there is a total disconnect between media ads and the state of ninety-five percent of India's 1.3 billion people troubles no one. So it seems.
Rear Vision Mirror (2)
The two novels featured above – "Krishna, A Love Story" and "Rahul, A Different Love Story" – both set in the early 1970s, use a cultural backdrop where the last vestiges of the British Raj are slowly being trampled under an emerging identity of 'Indian-ness', confused, full of contradictions, outward looking, and largely self-centred. As a result, two landscapes would be changed forever – the cultural and the physical.
The beauty I remember in some of the most breathtaking cities of India – Shillong, Darjeeling, Mussourie, Nainital, and Kodaikanal – have all vanished in the triumph of commerce over aesthetics and the eclipse of beauty, natural and architectural. Entire wooded hillsides in the Kashmir valley, now lie bald and bare, thanks to unbridled, criminal deforestation. Cherrapunji, once the wettest spot on earth with over six hundred inches of annual rainfall, now struggles to squeeze out two hundred inches from the elusive clouds. With architectural guidelines rarely enforced, for aesthetics or safety, once picturesque stucco and wood frame houses have given way to concrete boxes marked by shuttered storefronts at street level. The wood frame structures offered protection against earthquakes in India's eastern and north-eastern regions. Their concrete replacements rely on a hope and prayers which are bountiful during new building inaugurations. Such are the fruits of India's economic progress.
It is true Indian incomes have grown, but so have the educational aspirations among five hundred million Indans who are under the age of twenty-five. Undiscriminating families from every economic strata enthusiastically push their children towards private education – at the school and post-secondary levels – guaranteeing a field day to canny businessmen for whom education is nothing but a business with humans who profess to "teach" as the basic machinery for processing the plentiful raw material, students.
Education is in crisis. In a recent study, McKinsey Global Institute, presents a grim picture of the 'estimated efficiency of government spending' on Education as a miserable 51%. Amazingly, the think-tank, always a trusted friend of corporate interests, has recommended increasing public spending on basic services from 2012 levels by 100% to 2022, but decreasing the percentage outlay in Education during the same period from 42% to 23%.  While this leaves the actual amount of outlay in Education almost unchanged from 2012 to 2022, McKinsey proposes increasing percentage outlays in Health Care and Drinking Water from 15 and 6% to 40 and 9% respectively, both laudable goals. Holding the outlay in Education to 2012 amounts, opens the door to further privatization of school and post-secondary education.
Ironies abound. Ratan Tata, until recently at the helm of Tata's, the Indian multinational, presented a 50 million dollar gift to the Harvard Business School for Tata Hall, having attended only a short executive program at HBS in 1971, saying,  "I am so proud to give back to an institution that has done so much for me and for many other people." Meanwhile, the garage variety of Indian MBAs from third-rate business schools, flood the job market with little to offer to the marketplace. Mighty Tata Motors, now manufacturers of the upscale Jaguar and Range Rover cars, also brings the $4,000 Nano to the market. And Delhi's roads suffer slow strangulation with upwards of 1,500 vehicles added each day. Principal Indian cities have chosen to fight their traffic nightmares by building miles of elevated expressways through already congested neighbourhoods, worsening the urban blight which they have nurtured through decades of rampant corruption and unregulated construction.
Other crises abound. The Nehru family, long a pawn in the hands of the powerful Congress party, stares blankly at its final days with current elections drawing to a close. Pundits predict that the elections will see power shift to the Bharatiya Janata Party (BJP) with its formidable right-wing leader, Narendra Modi, likely to be India's next Prime Minister. The US, having refused Modi a visa for his complicity in the 2002 ethnic violence in his Gujarat state which left over a thousand, mostly Muslims, dead.  US foreign policy, generally seen as meandering without morals or values in the complex world of Asian politics, is attempting to build bridges in case Modi comes to power.
So many bridges have been built over the years – in India, Pakistan, and elsewhere – bridges that lead to nowhere!
In a final desperate attempt to cling to power by creating new constituencies of support, the Congress party engineered last month the break-up of the Andhra Pradesh state by carving out a new state, Telengana.
In over six decades in power, the Congress party has systematically fragmented the country to create enclaves of support, playing into the hands of local politicians ready to sell their souls in their lust for political power. The Indian government is poised to carve out another state, Bodoland, out of what was formerly the state of Assam. What was the vast state of Assam once, has been parcelled out into the states of Assam, Tripura, Nagalnd, Mizoram, Meghalaya, Manipur,  and Arunachal. Traveling through North Eastern India is like swimming in a cauldron of tribal jealousies, ethnic hatred and intolerance.The Centre cannot hold, and things fall apart!
It seems India's political leaders and parliamentarians have imbued the popular myth of Mahatma Gandhi's 3 monkeys who "See no Evil, Hear no Evil, Speak no Evil." As a result, Indian politicians rely on thuggish 'goondas' and their Mafia Dons for enforcing their power base, and are prepared to countenance (also known as a justice system with no end in sight) crimes such as rape, systematically used as a weapon of political intimidation.
The vandalization of political systems is so widespread that even the billionaire industrialist, Stanford educated Mukesh Ambani, once claimed that the Congress (party) is his 'shop' where he could buy anything he wanted.
One can understand the Italian-born Sonia Gandhi, Congress President and widow of murdered Prime Minister Rajiv Gandhi, smilingly participating in the charade known as Indian democracy. After all, her exposure to accumulated wisdom and learning was at best peripheral, as she hung out in Cambridge, England, while Rajiv Gandhi struggled in vain to emulate his illustrious grandfather Jawaharlal Nehru's educational achievements. With her Mediterranean background Sonia seems perfectly at ease with the Augean stables of Indian politics, considering that the cow and calf were indeed the original symbol of the Congress party. But to think that Cambridge (England) and Oxford-educated  current Prime Minister Dr. Manmohan Singh is oblivious to the bribery, corruption, mismanagement and decay all around him seems incredible. Whatever happened to the value-based wisdom he received from his favourite Cambridge professor, Joan Robinson?
Presumably, a brain is no substitute for guts.
---