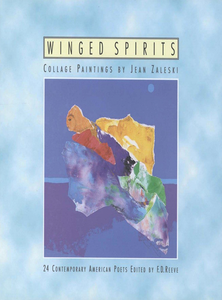 MEDITATIONS ON HOPE & UNDERSTANDING
Winged Spirits and Hope
Last week, a breakthrough research in spinal cord injury sent waves of hope and admiration across the airwaves. It highlighted another piece in the puzzle toward helping people walk again after such injuries. The study, published in the journal Brain, was funded in part by the Christopher and Dana Reeve Foundation.
I never met Christopher Reeve, but this research study brought back memories of an outpouring of feeling in verse which Bayeux published in 1995. "Winged Spirits," one of our treasured volumes of poetry, was edited by the poet Franklin Reeve, Christopher's father. The book was blessed with some priceless collage paintings by New York artist, Jean Zalesky, each one of the images uniquely complementing the verses by twenty four contemporary poets –
Thoughts
small bodies
lighter than air
rising
dreaming their wings
rushing toward love…
Franklin dedicated the book, among others, to Christopher and Dana, even as his son lay in a hospital bed in Mount Kisco, New York. The lines quoted above were by Franklin himself, the poem named "Snow Angels."
Actually, angels are everywhere. From "The Guardian Angel in New York," –
You stood in the doorway in the snow:
Times Square, a late hour.
The sill was black with chicken blood:
your black boots open: your glass like O's:
you touched your finger to your lips, you said:
Here: Wisdom. Wisdom and power.
That was Jean Valentine.
And from Henry Taylor's "At South York Cemetary," –
It had no voice, or anything like that, as it came across a field to where we worked at restoring an abandoned burial ground – a silent whirlwind we could see was there by leaves it spiraled higher than the trees. It slapped a leaf or two against our bodies, Then wandered on across the empty road. As if the thoughtless world were generous, we took that quirk of air as something given and turned to cutting brush and righting stones.
Many summers later, while my family and I were in Machias, Maine, a few days before the August Annual Blueberry Festival, Franklin called us to meet him in Cutler Harbor, a few miles up the coast. One by one, we dinghied to his sailboat; it was looking white and splendid against the blue ocean.   It was during the hours that we spent sailing the waters of the Grand Manan Channel off the coast of Maine, the brilliant sun flashing on the waves, the sail bloated by a light breeze, that I felt possessed, totally engulfed in silence. It lasted perhaps no more than a minute, but that was space enough for me. I felt possessed by – and saw for the first time – the angel of the ocean.
Understanding, Faith and Courage
The unimaginable horror of five lives lost when something goes horribly wrong in one single mind has haunted many Calgarians over the past few days. The event is painful and baffling. Over the past month or so, even bigger tragedies – the sea of mud that engulfed an entire community in Washington State, the disappearance of the Malaysian Airlines flight, the hundreds of school children lost at sea off South Korea, the sherpas buried by Everest's wrath – have tormented human understanding, faith, and courage.
We never have, never will, find an answer to the question 'Why?' In September 2005, I struggled for a while with a similar question. In the previous month, we had gone through what, in retrospect, seems almost like a joyous pilgrimage. Starting from Nashville with the Grand Ole Opry, to Memphis and the Lorraine Motel and, of course, Graceland, Montgomery and the Rosa Parks Memorial, Birmingham and the King Memorial Baptist Church, and finally to New Orleans. Walking in New Orleans, supposedly a crime-ridden city, we found beauty everywhere – from the vaults in Saint Louis Cemetary, to the outdoor sculptures in NOMA (New Orleans Museum of Art), music in Preservation Hall and the French Quarter, to the mysterious world of the bayous.
Then, suddenly, New Orleans fell apart. In early September 2005, it felt like I had awakened from a dream and stepped into a nightmare called Katrina. Over the months that followed, through the untiring efforts of poet Franklin Reeve, and the generosity of other poets, Bayeux was able to publish "For New Orleans" and Other Poems. When the book came out, it occurred to me that, like Blanche DuBois, publishers "… have always depended on the kindness of strangers."
While in New Orleans, we kept looking for a streetcar named "Desire" rattling through the old Quarter. We never found it. I wish you could hear the poets themselves reading from "For New Orleans" and Other Poems. They are all priceless gems, and I will end with lines from one –
What a workable world this could be,
If the laboring creature could be programmed
to slave like a drone
With a head full of circuits and no damned
ideas of his own!
How we'd cherish the dear fellow then! How he'd
capture our hearts!
A standardized laboring man with replaceable parts!
                                                           -Richard Wilbur
Poetry Month
Sometimes I think I can remember my mother singing me to sleep in my infancy. But that's probably in my imagination, since I did see her singing, most likely the same songs, to my younger siblings when they were babies. Songs, yes, but it took me several more years to realize those songs were poems. By that time, I was already into poems, nonsense verse, crafted by Sukumar Ray, the father of the Bengali filmmaker, Satyajit Ray.
It may seem startling, to some, that poetry pours into our ears from the first lullabies sung to us.
To me it's a mystery why the seeds of poetry grow into emotional shade trees in some and wither away in others. But the National Poetry Month is not an occasion to debate these questions. Rather, it is a time to celebrate poetry.
Bayeux Arts leapt into poetry in the idyllic Orkney Islands when the late Scottish poet, George Mackay Brown, 'dared' me to start a publishing house using a volume of his original poems. When I laid out my reservations, confessing that I had not purchased a single volume of poems during five years of my Ph.D. on 17th century English poetry, he relented and agreed to have his London publisher, John Murray, throw in the North American rights to his forthcoming novel, "Beside the Ocean of Time," short-listed for the 1994 Booker Prize.
"The Sea and the Tower" is the first collection of George Mackay Brown's 'Homeric' verses Bayeux published, followed by "The Wreck of the Archangel."
We celebrate this author because here was a poet who breathed life into our publishing efforts. Other poets have done the same. Lord Byron's poems reaped a rich harvest for the Scottish publisher, John Murray. More recently, T.S. Eliot revived a floundering Faber and Faber when royalties from "Cats" starting pouring in from Andrew Lloyd Webber. Eliot is not finished with miracles, even if the miracle is performed by Random House. I am referring to Random House/Faber & Faber producing the remarkable "The Waste Land" app for the iPad which has sold in the thousands.   Bayeux is busy refining the art of apps.
The Sunflower field near Donetsk
Like many of my fellow countrymen and, I am sure many thousands around the world, I have elected to give parts of my body, upon my death, for transplants or medical research or any other purpose that these parts may be deemed fit for. It occurred to me to contemplate what value such a wish might have had if I were a passenger on Malaysian Airlines Flight 17.
Even if some brave volunteer or two managed to recover my body from a picturesque field of sunflowers in Eastern Ukraine, chances are my body would be shoved into a body bag and left by the highway, under the orders of some equally brave militia commander. Under such conditions, my fond final wish to help fellow humans with my dead body would dissolve in putrefaction as fast as my body.
Still, I persist in hoping that my imagined death in the skies might have helped someone, somewhere, in some tortuous way. I wonder, what might there be left of me to help others?
Maybe something in my wallet; I usually carry two or three hundred US dollars in cash to tide me over immediate needs at the destination. The credit cards in my wallet might prove of some use, provided someone was smart enough to try using them as soon as possible after the crash.
I usually carry my passport in my trouser pocket; maybe it would still be there in the sunflower field. Now that could be real find for someone. In expert hands, my passport could be recycled for use by drug-traffickers, human traffickers, you name it. However dubious, such a final service might merit some recognition in some quarters.
If my computer bag were to be found, no doubt the computer would be wrecked for good. Still, I fear the electronics-savvy Russian-backed Eastern Ukrainians might be smart enough to recover the hard-drive and send it where they send the plane's black-boxes. Maybe my bank account might get hacked; that could prove a real disappointment to hackers, considering my eternal overdraft. But I always carry an unfinished manuscript, handwritten, in my computer bag. If the diary is found, maybe the unfinished story might give some fleeting moments of pleasure to some. But that too seems unlikely.
The Violent World we live in
The last few days have been terrible. One blow after another to shake our faith in human nature.
First, there was the spoilt and deranged, rich kid in Santa Barbara, California, who gave vent to his sense of rejection by women through the act of killing five students. Then came the stoning of the Pakistani woman who married the man she loved against the wishes of her family. And, finally, the rape and lynching of two teenage girls in India, their bodies left hanging from a mango tree.
Jealousy, lust, hatred, and sheer blood thirst have played a role, in times of peace and war, since time immemorial in man's inhumanity towards women. The literary arts have explored the phenomenon in Greek tragedies like "The Trojan Women" by Euripides, in Shakespeare's "Othello," and "Rape of Lucrece" and in Tennessee Williams's "A Streetcar named Desire." Great art does not glorify such violence, but it seems to grant it an immortal quality, as in Bernini's sculptural representation of "Persephone and Hades" or in "Rape of the Sabine Women," in the Louvre.
The ephemeral nature of a violent act is objectified by art into something terrible and imperishable, awesome in its pervasive repetitiveness. Only a rare legend chronicles vengeance and retribution that pursues and destroys the would-be perpetrator of violence, as in the story of Judith in the Old Testament. In modern times, the International Court may have punished some deserving criminals, but thousands of such others who take part in wars and genocide as in Rwanda go unpunished.
'Honour killing' is a laughable term that would never be in vogue had it not been for society's indifference to the plight of women. The wheels of justice move very rarely and rarely even with the courage and persistence of victims such as Pakistan's Mukhtaran Bibi who chose to live and fight after her terrible ordeal. Only a person like Phoolan Devi of the Chambal region (India's Bandit Queen) can take matters in her own hands and deliver merciless justice to the heartless. She too perished at the hands of an assassin years later.
Some of the novels published by Bayeux explore these issues. Unfortunately, there are no answers.
---